Maltese tomato and ġbejna galette
275g plain flour
170g butter, chilled and cut into pieces
1 tbsp red wine vinegar
700g mixed tomatoes (try and find some different varieties – heirloom, cherry, plum or whatever you can find)
4 cloves garlic, sliced
3 small peppered ġbejniet (ones made from sheep's milk)
1 egg
½ lemon
1 tbsp chives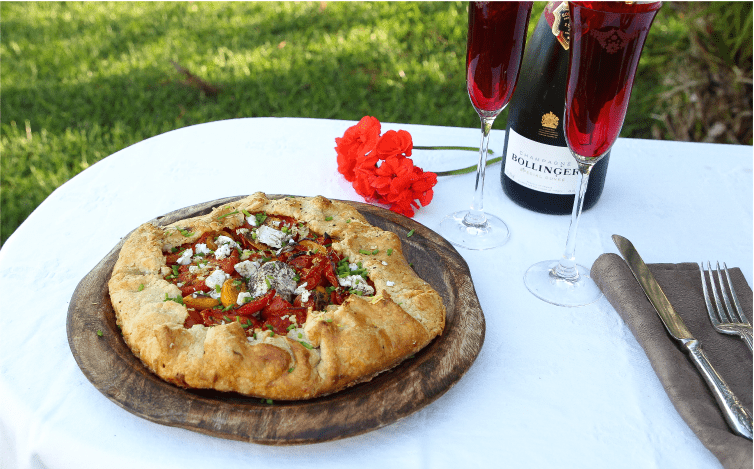 In a large mixing bowl, rub the butter into the flour with a little bit of salt until you have coarse breadcrumbs, leaving some chunks of butter.
Pat into a large disk, cover in clingfilm and place in the fridge for two hours.
Preheat the oven to 200C.
Slice the tomatoes and place in a large mixing bowl with 1 tsp sea salt.
Allow the tomatoes to sit for 5 mins and then drain. This extracts some of the water from the tomatoes so that the galette does not become soggy.
Place the tomatoes on a piece of kitchen towel to absorb a little more liquid.
Roll out the pastry on a sheet of baking paper into a circle about 5mm thick and transfer to a baking tray.
Grate one of the ġbejniet sprinkle over the pastry base, leaving a border of approx. 5cm.
Arrange the tomatoes and sliced garlic over the cheese
Bring the dough up and over the filling and brush the dough with egg watch.
Sprinkle the tomatoes with salt and pepper and place the galette in the freezer for 10 mins.
Cook in a pre-heated oven for approx. 1 hour until the pastry is golden.
Place one of the whole ġbejniet into the centre of the tart and crumble the last remaining one on top.
Grate the lemon zest over top and sprinkle with chopped chives.
Allow to rest for 10 mins before serving.
Serve hot or cold.