Pumpkin, fennel and taleggio tart
500g puff pastry
1 egg, beaten
500g pumpkin
Nutmeg
1 cinnamon stick
1 fennel bulb
½ lemon, juice
1 tsp fennel seeds
Salt and pepper
Olive oil
10 spears asparagus
200g Taleggio
6 sprigs thyme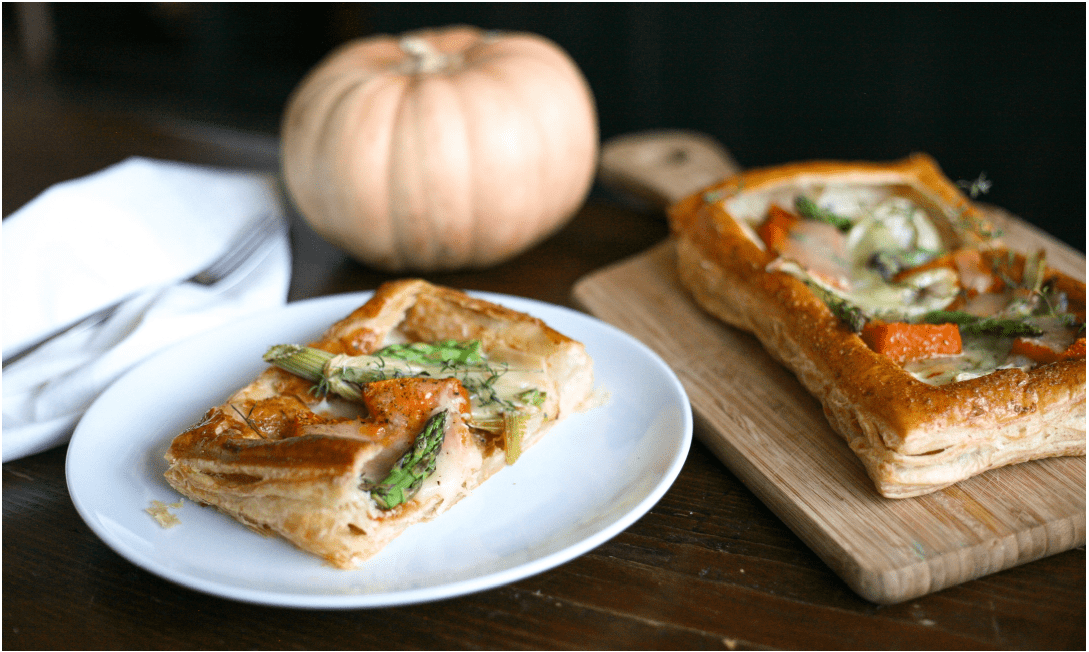 Preheat the oven to 200C.
Peel and chop the pumpkin into large chunks.
Season with salt, pepper, nutmeg and olive oil and rub into the pumpkin.
Break the cinnamon stick over the pumpkin and roast for 30 mins until tender.
Slice the fennel bulb and rub with lemon to prevent discolouring.
Place in a single layer on a baking tray and season with salt pepper and fennel seeds.
Place in the oven, while the pumpkin is cooking, for 20 mins until soft.
Blanche the asparagus spears in boiling water for 3 mins.
Remove from the boiling water and plunge into ice-cold water so that the asparagus retain their bright green colour.
Roll out the puff pastry to form two rectangles.
Create a border all the way round by lightly running a knife 2cm from the edge.
Prick the rest of the pastry all over with a fork.
Brush the border with egg wash and place in the oven for 25 mins.
Remove from the oven and push down the centre of the tart with the back of a wooden spoon.
Place the roasted pumpkin, roasted fennel and blanched asparagus into the centre of the tart.
Top with thinly sliced Taleggio and a few sprigs of thyme.
Lower the oven to 180C and cook the tart for another 10 mins until the cheese is melted and the sides of the tart are golden.